Instagram has always been known as a visual platform 📸, that is until recently… In the past 4 years, captions 📝 have become increasingly more important. And not just any captions – long-format "essay" captions in particular.
⠀⠀⠀⠀⠀⠀⠀⠀⠀
A recent study from Fohr.co shows that average caption length has more than doubled since 2016.
⠀⠀⠀⠀⠀⠀⠀⠀⠀
Today the average length of an Instagram caption is 405 characters or 65-70 words, and experts predict that that number will only continue to increase with time.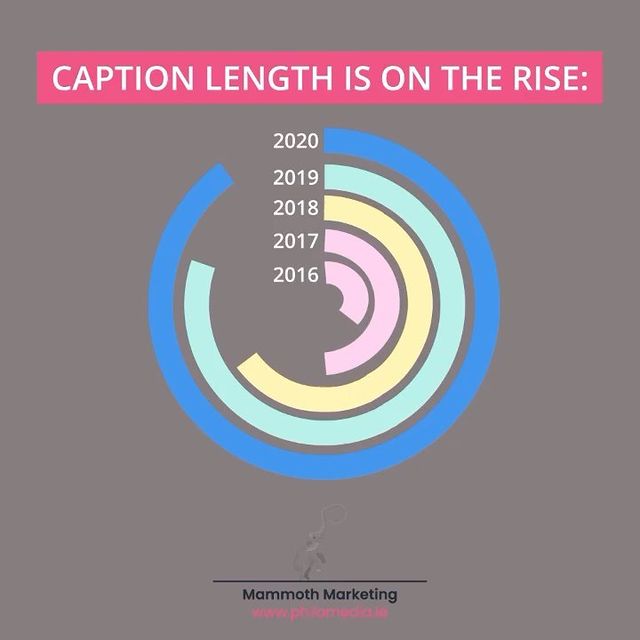 ⠀⠀⠀⠀⠀⠀⠀⠀⠀
Why is this the case? 🤷🏼‍♀️
⠀⠀⠀⠀⠀⠀⠀⠀⠀
There are 2 main factors that I believe are influencing this trend!
⠀⠀⠀⠀⠀⠀⠀⠀⠀
1️⃣ Market Saturation – As Instagram becomes more saturated, our expectations for high-quality content become higher and higher. In order to set yourself apart from the other 112.5 million users on Instagram, you have to go above and beyond that status.⠀⠀⠀⠀⠀⠀⠀⠀⠀
2️⃣ Consumer Preferences – Most users aren't just writing these long captions for fun; they are doing it because that's what's performing best for them! The more you open up on social media, the more connected your followers will feel to you, and the more likely they will be to engage with your content.
⠀⠀⠀⠀⠀⠀⠀⠀⠀
In short: A picture is worth a thousand words, but a caption can tell a whole story! And that story is just as important! (Assuming that your story is worth reading.)
⠀⠀⠀⠀⠀⠀⠀⠀⠀
Don't just write long captions for the sake of making them long. Every post that you share should have such a compelling narrative behind it
⠀⠀⠀⠀⠀⠀⠀⠀⠀
#Philomedia #PhilHQ