Instagram is a visual image/video platform. 👁 Good graphics are essential to capturing your audience's attention, but alone, they aren't enough to drive conversions. ⠀⠀⠀⠀⠀⠀⠀⠀⠀
This is where captions come into play… Next week we will talk about our strategy in wiring the perfect caption. ⠀⠀⠀⠀⠀⠀⠀⠀⠀
As a business, captions are essential! ⠀⠀⠀⠀⠀⠀⠀⠀⠀
These 2,200 characters are your opportunity to truly connect with and inspire your viewers to take action! 💃🏽 That's not an opportunity that should be taken lightly.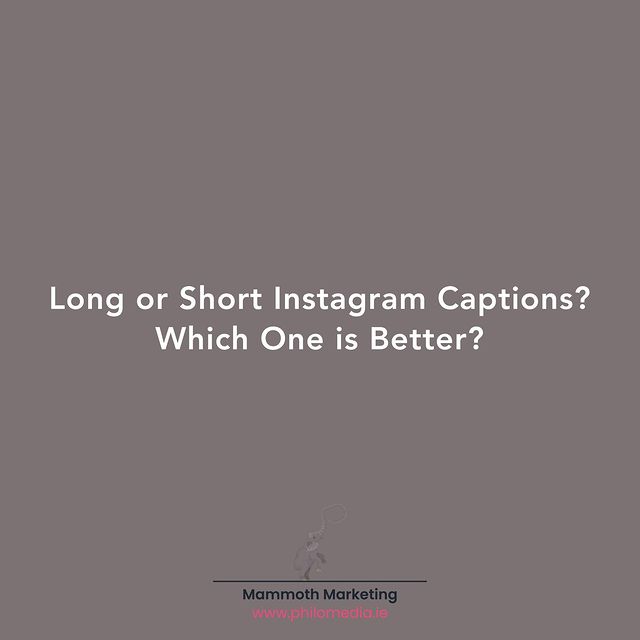 ⠀⠀⠀⠀⠀⠀⠀⠀⠀
DON'T WASTE THIS SPACE.
⠀⠀⠀⠀⠀⠀⠀⠀⠀
Think of each caption as an opportunity to tell your story 📚. Each one should have its own structure with a beginning, middle, and end.
⠀⠀⠀⠀⠀⠀⠀⠀⠀
Now I know what you're thinking….
⠀⠀⠀⠀⠀⠀⠀⠀⠀
But all the huge accounts that I follow hardly write anything in their captions! 🙄
⠀⠀⠀⠀⠀⠀⠀⠀⠀
And it's true.
⠀⠀⠀⠀⠀⠀⠀⠀⠀
Celebrities with over 1 million followers can get away with a single '🌝' emoji as a caption, but for brands and businesses, lengthy captions that champion story-telling and authenticity are the key to driving great results.
⠀⠀⠀⠀⠀⠀⠀⠀⠀
Basically, if you're not already known by the masses (you have less than 1M followers), then you need to take advantage of all the caption space you can get!
⠀⠀⠀⠀⠀⠀⠀⠀⠀
What do you think?