What if I told you that the #1 thing that's keeping you from growing on social media is yourself?! 😱 It sounds harsh… I know! But it's often the truth.
⠀⠀⠀⠀⠀⠀⠀⠀⠀
As business owners, we are often so focused on the "big picture🖼 " that sometimes we forget about the basics.
⠀⠀⠀⠀⠀⠀⠀⠀⠀
We get so busy/consumed with running the business as a whole that marketing the business and connecting with customers becomes a secondary priority.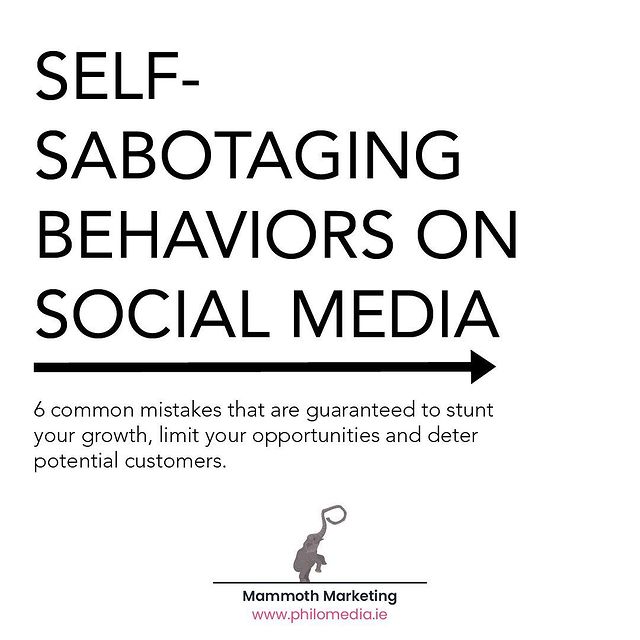 ⠀⠀⠀⠀⠀⠀⠀⠀⠀
I don't know about you, but I can spot the businesses that are at this breaking point from a mile away! 👁 ⠀⠀⠀⠀⠀⠀⠀⠀⠀
⠀⠀⠀⠀⠀⠀
Their content has crossed the line from valuable and informative to self-centred and spammy.
⠀⠀⠀⠀⠀⠀⠀⠀⠀
They've forgotten that social media is actually not about them 🙅🏼‍♀️ and really all about their customers 👯‍♀️. ⠀⠀⠀⠀⠀⠀⠀⠀⠀
And the second this happens, they sabotage their chances for success!
⠀⠀⠀⠀⠀⠀⠀⠀⠀
Have you fallen victim to any of these self-sabotaging behaviours?? (Comment below! 👇🏼)
⠀⠀⠀⠀⠀⠀⠀⠀⠀
⠀⠀⠀⠀⠀⠀⠀⠀⠀
⭐ Something to note: No one is perfect, we all have the tendency to fall into these behaviours from time to time. The important thing is that we catch ourselves and correct it before it's too late!