The best time to start growing your social media was 10 years ago. The second best time is right now! 👍🏼
⠀⠀⠀⠀⠀⠀⠀⠀⠀
Every account starts with 0:
0️⃣ Posts
0️⃣ Followers
0️⃣ Dollars
⠀⠀⠀⠀⠀⠀⠀⠀⠀
You cannot skip the 0 phase.
⠀⠀⠀⠀⠀⠀⠀⠀⠀
But you can progress past it! 🚀 How? By starting!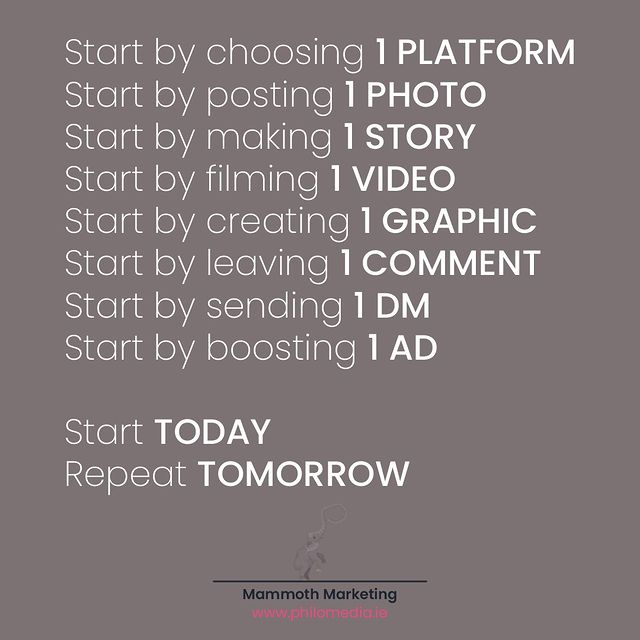 ⠀⠀⠀⠀⠀⠀⠀⠀⠀
So many businesses get caught up in the nitty-gritty details of what to post, how to post, when to post, etc. that they end up not doing nothing.
⠀⠀⠀⠀⠀⠀⠀⠀⠀
The truth is, the only way to find the answers to those questions is to actually start posting, engaging and listening to your community! Believe it or not, digital is NOT about what you want to post 🙅🏼‍♀️. It's about learning what your followers want to see from you and delivering on that!
⠀⠀⠀⠀⠀⠀⠀⠀⠀
These platforms aren't going anywhere. BUT it is getting harder and harder to grow an organic, engaged following. It's 1,000% possible. But the longer you wait, the harder and more expensive it is getting. ( 👈🏼 Read that, know that!)
⠀⠀⠀⠀⠀⠀⠀⠀⠀
▶️ Start TODAY.
🔄 Repeat TOMORROW.
⠀⠀⠀⠀⠀⠀⠀⠀⠀
Have you posted yet today??